Holiday Craft & Vendor Show
Dec 01, 2018
Sponsored by the Children's Dyslexia Center of Western PA.  Over 100 vendors & crafters expected.  Frozen, Spiderman, and dance performances are scheduled, along with a Holiday Prince and Princess contest, Christmas music, author book signings, pictures with Santa, Chinese Auction, food, raffles, and fun for all ages!  One-stop shopping for all of your holiday gift-giving needs.  Contact the Dyslexia Center at (724) 654-5408, or e-mail mmerrit@cdcofwesternpa.org for additional information, contest registration, or vendor contracts.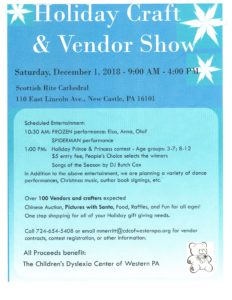 12/01/2018 | 9 AM - 4 PM
---
"The Nutcracker" – New Castle Regional Ballet
Dec 02, 2018
Tickets are $18.  Click on the following "Buy Tickets" link to purchase tickets online.  Further information:  contact the studio at (724) 658-7122. http://www.newcastleregionalballet.org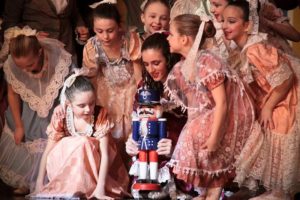 12/02/2018 | 2 PM
---
Dr Seuss' "How the Grinch Stole Christmas"
Dec 08, 2018
The 2000 film starring Jim Carrey will be shown in the grand Cathedral auditorium.  Details to follow!
12/08/2018
---