UPMC Pink Event
Oct 20, 2019
Save the date!
10/20/2019
---
Free Shred Day New Castle
Oct 26, 2019
The Better Business Bureau and the PA Link to Aging and Disability Resources will host a Shred Day in the parking lot directly across the street from the Cathedral to properly dispose of your outdated, sensitive documents.  Paper shredding (3 bag/box limit) will be provided free of charge to help prevent identity theft.
10/26/2019 | 10 AM - 12 PM
---
New Castle Cancer Support Benefit Bingo
Oct 27, 2019
Doors open at 11:30 AM, bingo games begin at 1 PM.  Chinese Auction, 50/50, Early Birds, Pig Number, concession stand, home-baked goods.  Tickets are $10, available in advance from any member, or may be purchased at the door.  All proceeds benefit local cancer patients.
10/27/2019 | 1 PM
---
Mohawk H.S. Veteran's Day Program
Nov 07, 2019
Save the date!  Sponsored by Mohawk H.S. Future Business Leaders of America.
11/07/2019
---
Children's Dyslexia Center Craft Show
Dec 07, 2019
Save the date!
12/07/2019
---
New Castle Regional Ballet "The Nutcracker"
Dec 08, 2019
Tickets will be available through the Cathedral website closer to the event.  For further information, contact the studio at (724) 658-7122. http://www.newcastleregionalballet.org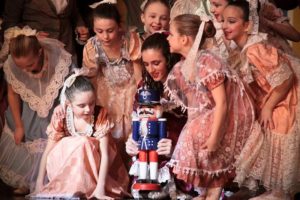 12/08/2019 | 2 PM
---
All-You-Can-Eat Pancake & Sausage
Jan 18, 2020
Sponsored by the Valley of New Castle.  Buttermilk pancakes, buckwheat cakes, whole hog sausage, drinks.  Tickets:  Adults $7 in advance, $10 at the door; children under 12 $4.  Tickets available in advance by mailing a stamped, self-addressed envelope with your check payable to "AASR" to:  Valley of New Castle, 110 E. Lincoln Ave., New Castle, PA  16101, Attn:  Pancake Dinner.  For further information, contact the Valley of New Castle at (724) 654-5800.  Proceeds to benefit the Children's Dyslexia Center of Western PA & Scottish Rite Activity Fund.
01/18/2020 | 3 PM - 7 PM
---
New Castle Bridal Fair & Women's Expo
Jan 26, 2020
For 44 years, this show has been the area's premier bridal spectacular. Seventy of the tri-state region's best exhibitors all under one roof creating the #1 stop for brides to be and their families. See the latest ideas, products and services for the perfect wedding and happy life thereafter. Continuous fashion shows by the area leading bridal shops. Hundreds of door prizes given away. Enter to win the $1,000 cash prize given away at 4:30 pm. The winner must be present at that time.  Tickets are $10 and will be available at the door.  Complimentary tickets may be picked up in advance from any of the participating vendors.  For vendor information, contact Bob at mccracken3471@hotmail.com . http://www.newcastlebridalfair.com
01/26/2020 | 12 PM - 5 PM
---